I love nothing more than a GREAT holiday recipe! I'm linking up with
First Grade and Fabulous
and bringing you my favorite Thanksgiving/Christmas recipe of ALL TIME! Literally, I look forward to this Sweet Potato Casserole all year long. I never liked sweet potatoes until I had this dish one year at a friend's house. Now I can't get enough of it! I hope you enjoy my recipe!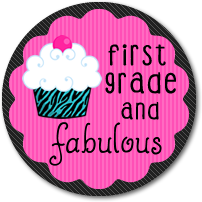 The recipe is super easy to make, but please let me know if you have any questions about it! :)
You can join the Linky party but clicking the button above!